As promised, a little bit of knitting... to start.
These two projects have been my mindless knitting for the past little while. Both are from Sally Melville's first book, The Knit Stitch.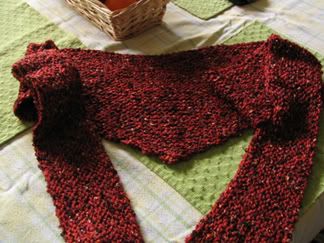 This one is the Shape-It Scarf. When I first started it, John was rather uncomplimentary about the colour and texture of the scarf. In other words, he didn't like it. Yesterday, after I'd finished the cast off and the blocking/pressing, he very chivalrously commented that he stood corrected. It was, indeed, a nice scarf. The blocking and pressing really finished it. The yarns I used were Sirdar Country Style DK and SRK Ranee, held together.
Here's a closer look at the texture...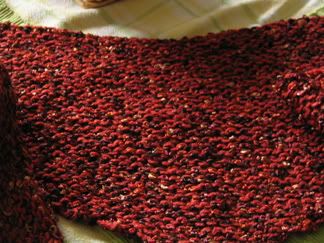 I'm quite happy with the way the scarf drapes. One customer commented that hers was quite heavy; this one feel just right. If I have any criticism at all, it is that the "arms" of the scarf are a little long. Just a little, though. I can live with that. I might try this pattern again, in a lighter yarn. Might.
The second project, still in the works and perfect for TV knitting is from the same book. This time, it's the Baby Albert coat. I'm knitting this one in the largest size, to fit a one year old.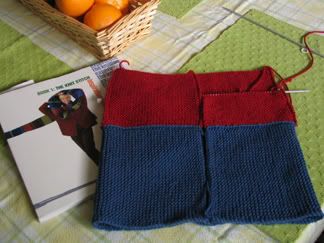 I'm just finishing off the left front; then it's the sleeves, which are each a different colour. I love the construction of this little jacket. It begins with the bottom half, knitted sideways. The individual pieces for the fronts and the back are picked up and knitted up. The sleeves are then picked up and knitted down to the cuff. The only seams in the jacket are at the top of the sleeves and shoulders. Very clever. I'm not sure I'd ever knit the adult version (that's a LOT of knitting), but for a kid's jacket, this is cute. I think this would be a great knit for a baby gift, if one were to do the smallest size. And, as I said, great TV knitting!
I will have more to show you as my knitting floats to the top of everything stored in the garage. I'm not even going to try to find anything right now (although it would be nice to know where my Denise needle kit is).
To those of you who left comments on my last post, thank you. You're right. This place, though not perfect, will be made into a very pleasant little nest for the two of us. Already, two of our friends have commented how homey it feels, even though we still don't have everything set up the way we'd like.
And, it's got water. :)