There hasn't been a lot of knitting happening this week. There has been some, though.
The little ribbed sweater is progressing nicely.
I'm hoping to finish it this weekend, so that when the little one arrives, it will be ready for him. It won't fit him right away, but at least it will be ready. I've finished the back, front, and one of the sleeves. The second sleeve will be cast on today. That sleeve only took two days to complete, and that was mainly knit before going to work in the morning. It should be easy enough to finish the second sleeve in a day, if John doesn't mind me knitting.
In other knitting, I started this little project a while back, but wasn't happy with the needle I was using (Denise needle). I would have bought an 8 mm Addi Turbo, but the store didn't have one long enough in stock; I don't like using double-pointed needles that are as big as the 8 mm needles are (I find them awkward when they're that big). So..... what's a girl to do?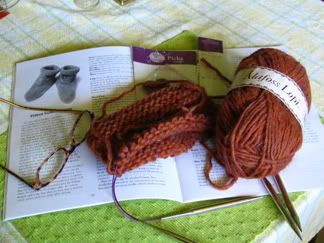 I ordered some Knit Picks Options needles. I already had the cords (24"), so I ordered two sets of the 8 mm points. They arrived yesterday. I immediately tried them out on the felted socks and love them. Oh, incidentally, the felted sock is from Cat Bordhi's book
"Socks Soar on Two Circular Needles".
I decided to make these for the winter, to wear in my sheepskin slippers. I have a feeling the floors in this suite will be rather cool (it's all ceramic tile or painted concrete).
One more thing arrived with the Knit Picks needles.
Elizabeth Zimmermann's
"Knitting Workshop".
I decided this would be a good addition to my knitting library and I wasn't wrong. I have a feeling I'll be referring to this book on a regular basis.
Today, I'll be by myself for a few hours; John has to go to work for a while. I'll be hitting the local farm shops and picking up a few groceries. Then, it's off to the yarn shop to visit with one of the girls for a little while, just to catch up. After that I'm going to knit, knit, knit until John gets home.