First off, I hope you all have a Happy New Year; I hope 2008 brings you much joy and lots of FO's! ;)
I have one last finished object to share with you.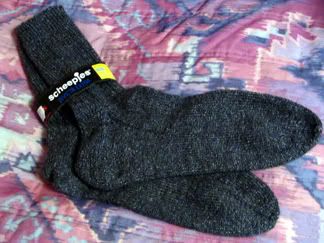 I started these in March '07 (
click here
). I finished them last night and they are now happily residing in John's sock drawer.
The yarn (to rehash) is Scheepjes (pronounced like "scape-yes") Invicta Extra, colour #1361, a lovely charcoal grey with a black and white thread running through it. I used 2 balls on 2.25 mm (US 1) double pointed needles.
I should have had these finished a long time ago, but once I got to the gusset stitches, I simply lost interest. Now, I don't have to look at them anymore. They're done. (and just what will I do with the other 4 or so balls of this yarn I've got.... hmmm... might make nice gloves)
There was a chance of one more FO for 2007, but I'm not going to push it. I'd rather take my time and make the scarf a suitable length instead of just trying to get things off the needles. It will be my first FO of 2008. Sounds good to me!
Have a great night, all... see you next year!