First, though, Siew, could you email me? I have questions!! :)
With the impending move, I really shouldn't be starting anything, should I? I should be finishing things, right? Yup, I thought so. But there was this yarn, in my stash, calling me, wanting to be played with. I yielded.
I had to find a pattern for this yarn. I did sort of have a pattern in mind and it seems the yarn is quite happy with my choice.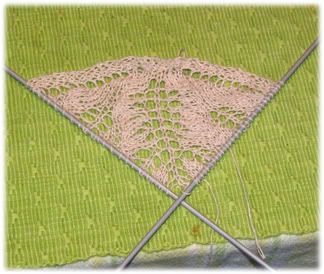 The yarn is LanaKnits 100% laceweight hemp. The pattern is Elann's Luna Moth shawl. The needles are 3.25 mm (US 3). I could probably have gone a little bigger on the needles, but I'm really liking the texture I'm getting, so I'm not going to bother changing it. I'm almost through the first pattern repeat and I do like it already. This will be, I'm thinking, my leave me alone, I need to escape knitting.
While exploring on Elann's website, I also came across this little gem...
click here
. A shawl back shrug! It's worked up in a dk weight yarn. I like shrugs, but most of them are short in the back. That's not always a bad thing, but I do find that my kidney area feels the cold more than my other parts do, so I like the idea of a longer back. I'm adding this to my list of projects... my to do list.... or might I be right in calling it my UFO list? ;)
Here's what the front looks like (you have to scroll down in the pattern). I think it would be a fun little project. Now, I need to think about what yarn I'd like to knit it in.
Now, off to have a shower and I think we'll be starting some packing today. *sigh*