Most of my knitting time this week has been spent with the Pi Are Square shawl. It's nice having something so mindless on the needles. I can either zone out completely or I can watch tv, chat with John, or just sit and think. Gotta love a project like that.
It's coming along; at this point, each row takes just over 15 minutes to complete. That's a lot of stitches!
It's also becoming more colourful. I wasn't sure, at first, if I'd like how the colours would come together. I do. I've decided to leave one of the colours out as it's not a heathered yarn, so after the teal-y blue I'm working with right now, I'll be moving on to two shades of denim-y blue.
Now, on to the bitch part of this post. Every time I'm in the grocery store, I check the magazine section for new issues of my favourite knitting magazines. Last week, I saw a Knitter's magazine on the stand. However, it was packaged with another magazine and shrink-wrapped, so I couldn't peruse it. I didn't buy it.
Yesterday, I did. I paid $10.95 for the two magazines. That, in itself, is a lot of money and worthy of it's own bitch. What really angered me, though, was what I discovered later. I took the Knitter's magazine to the tub with me (gotta have some bathtub reading to go along with the glass of wine!) and read through the magazine. I wasn't terribly impressed with the contents and was a little puzzled by all the summery patterns, considering the fact that summer is a long ways away.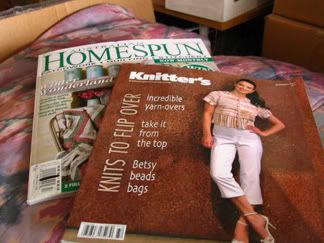 Then I looked at the cover a little more closely. This is the Summer 2007 issue!! Excuse me?? Summer 2007?? I paid $10.95 for a magazine I didn't buy (at a discount because I was still affiliated with the yarn store) last summer?? And for another magazine (Australian Homespun) I never would have bought in the first place? As nice as the other magazine is, it's geared to quilters. I don't quilt. I'll never quilt.
The magazines were presented on the shelf with the Knitter's side facing. If I'd had my glasses with me, I never would have bought it, so in part it's my own stupidity. The publishers could have, at the very least, had the decency to include an up to date issue! I'm really disappointed and angry, and I feel that I've been taken advantage of.
*deep breath* Bitch over.