I wish I could show you the finished Evolution Shawl. It isn't finished. The border is more than halfway done, though. I'll tell you what, that border is taking me as long, or longer, than the body of the shawl! It would be nice if it was mindless knitting, but I'm learning the difference between knitted lace and lace knitting.
For anyone who doesn't know the difference, knitted lace has either a knit or a purl row on the wrong side of the work. Lace knitting has patterning on every row. That makes for knitting that demands concentration, and attention to the chart. It also means that it takes longer.
Because I can see the light at the end of the tunnel, I cast on for a mindless project. Not only is it mindless, it will also be a stash buster. Here's what I have so far...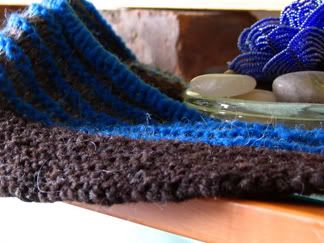 The pattern (yes, I'm following a pattern this time) is from Vivian Hoxbro's "Shadow Knitting". The yarn is the unspun White Buffalo-style yarn I was given a couple of years ago. The pattern in the book is done with a fingering/sport weight yarn; this yarn is, obviously, quite a bit heavier than that, at least a worsted weight, so I've changed up the needle size. It's going to be quite a large, and very cozy, shawl, which is just what I want.
I'm using 4.5 mm needles (US7); it's not a stiff knit, but not terribly drape-y either. I'm envisioning something I can wrap myself up in on the sofa (or in my recliner) while watching tv or knitting. If necessary, it can also replace a jacket if I need to run across the street to the grocery store; just so much easier, dontcha know? As far as yarn colour goes, I didn't have a lot of choice. These are the colours I was given, plus a natural white. I was going to use the white instead of the blue, but I have more of the blue than the white, so I'm going with what I have most of. You know what? I don't actually dislike the combo.
Froukje left a comment on a previous post (the one that had some Dutch in it) and I just wanted to respond to it. Froukje, my parents are from Friesland (Bergum and Garijp); I grew up hearing Frisian and Dutch; I still have a lot of extended family there. I was married to a Dutch man and learned how to speak, read and write it. I've always loved langages and I do try to keep up my Dutch, isn't easy because my present husband isn't Dutch at all and I rarely hear anyone speaking it around here.