So, last night I decided to see what Elizabeth Zimmermann's Pi Are Square shawl is all about. There's an article and pattern in the Winter 07/08 Vogue Knitting. My intention was just to knit up a little one to see what the shaping is all about (I have a thing about shawl shaping going on these days... what IS the most practical shawl shape anyway?).
By bedtime, I realized I was kind of getting into this shawl. It's basic. It's garter stitch. It's not lace. It's the perfect stash buster.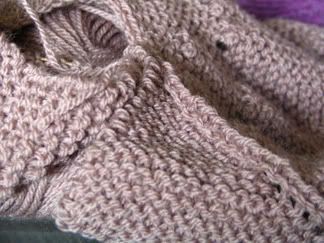 It's brown. Brown is sort of how I feel right now.
This is some of the stash that will be busted; I have two 50 gram balls of each colour and all of it will become part of this shawl, along with all the remaining brown I can find. It's left over from the Little Arrowhead cardigan I finished earlier. All of the yarn is Sirdar's Country Style DK. I had purchased the 50 gram balls a few years ago, with the intention of making a scarf out of it. I never did.
This is not going to be a lacy shawl. It's not going to be dainty, or even pretty. It's going to be practical. It's going to be wrap-around-yourself-when-you're-feeling-chilly-or-just-yuck practical. It's simple, it's relatively mindless, seeing as it's all garter stitch. It will not have a lacy edging because I don't think it will need it.
And right now, it suits my frame of mind.