A couple of years ago, I posted a pattern for a simple shrug. The pattern was from a Bernat leaflet, no longer available, as far as I know. To jog your memory, here's what it looks like...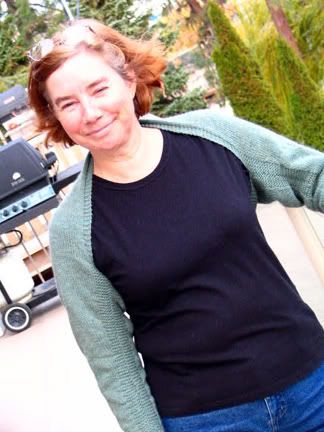 The pattern is on my
free pattern site
. However, I'm not rehashing this pattern for my own benefit. I was approached by another knitter on Ravelry, asking if she could adapt the pattern to machine knitting. I gave her permission to do so, with the proviso that I could publish her notes. After she had made the machine knit version, she emailed me the directions.
It took a while, Nicola, but the pattern is up, finally. My thanks to Nicola, who blogs (with friends) at
Four Friends and a Blog
.
On another matter, Robbyn tagged me, on her blog, with a "You Make My Day" award; I'm afraid it may take me a bit of time finding another 10 bloggers who haven't already been tagged, Robbyn. That's a lot of work! I appreciate the honour, and I'll have to go through my blogroll this weekend. :)
As well, I have an update on the Pi Shawl. The edging is progressing nicely at the moment. I have about 144 stitches (of 576) nibbled up as of this morning. I finally found the perfect pattern for the edging, in, of course, one of Barbara Walker's treasuries (#2). I charted it, swatched it, made sure it worked and then cast on for it. It's not an easy pattern to memorize, but with just a 12 row repeat, it's working up fairly quickly. It's interesting how the yarn (and your project) will let you know whether a stitch pattern is right or not. At least, that's how it feels; looking back on the other stitch patterns I had tried, I know they just wouldn't have been right for this shawl.
Now, I'm really looking forward to having it completly off the needles, washed and blocked. I can't wait to see how this shawl turns out!