So many of the knitting blogs I read are written by knitters who also dye and/or spin their own yarn. Spinning is something I've wanted to try for a long time, but every time the opportunity came up, something else would rear it's head as well (like having to move).
Not this time!
That's me, in the foreground. Spinning!
Three of us, Sue, who teaches knitting classes at the store, Wendy, who takes knitting classes at the store, and myself, drove out to beautiful Summerland (about 45 minutes away) for a day of learning to spin. For those of you who do spin, I won't make you envious of Wendy, who's brother has alpacas and a ton of spinning equipment he doesn't know how to use. Both Margie and Gail (who patiently taught us the basics) were drooling and were quite willing to swap their brothers for Wendy's.
We had a fun day, I have to say. Gail was a wonderful hostess and their llamas and alpaca are absolutely charming. It was nice to sit on the patio, feel the wool slipping through our fingers, sense the day warming as it went along, and to watch the animals from where we sat. And Margie was infinitely patient with the three of us and the various "issues" that came up with the spinning wheels.
And I came home with this...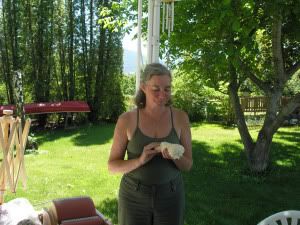 I had all kinds of intentions of taking a ton of pictures. I, however, with characteristic head in the clouds, forgot the camera. Thankfully, Margie had hers.
We left Summerland with the admonition to practice, practice, practice. For me, I'm afraid that will be more difficult than it sounds. I don't have a wheel, for one thing, but that can be fairly easily remedied. For another, I have a feeling that my knitting time and future spinning time will be seriously curtailed over the next while.
Here's where I make an announcement.
This morning, I'm heading off to a new job. I'll be putting in a couple of days to see how "the fit" is, whether or not they think I can do the job, whether or not I think I could handle the job. If it all works out, I'll have a full time job. And it's not knitting-related in any way, shape or form.
I'll let you know how it goes.