Long ago, in 1955, a baby boy was born. His parents named him John. They sent out the requisite birth announcements and the congratulatory notes began to stream in to the proud parents' home. His mother, being a creative sort, took all of these congratulatory notes and built a collage on the back of a divider screen she had made previously. (As an aside, this 3-panelled screen had been made with panels of cardboard and covers of New Yorker magazine, all of them from the early 1950's). Two of the panels became a showcase for the best wishes. They were framed and became a special part of his parents' home.
Many years later, this baby became a tree planter. At one point, after his mother had been hospitalized after several strokes, he was cleaning up the house, preparing to move. The panels were uncovered and, not thinking he'd have room for them anywhere, a friend obligingly took them, with a bunch of other stuff, to the local dump. Unbeknownst to the John, a friend, a former employer, just happened to be at that dump at the same time that the panels were being disposed of. The friend and the friend doing the dump run knew each other and a conversation ensued. The former employer (let's call him Brad) relieved the man of the two panels and went home with a plot forming in his mind.
Now, Brad was a conniving sort; not in a bad way, but he did like to mess with people's minds. He owned a home in a small town near the town John lived in. Brad had converted part of his home into a small cafe. One day, John decided to stop in and say hello to Brad on his way through town. He intended to stay no more than a few minutes, but Brad managed to entice him into staying long enough to enjoy a few beers, long enough to ensure that John would need to use "the facilities". Finally, John had to leave, but asked if he could use the washroom first; Brad pointed him in the direction of one of the two washrooms. There, while using the facilities, John happened to look to his left and saw something he thought he would never see again. To this day, he isn't sure if he actually finished answering nature's call. He was stunned, for there, next to the toilet, were the two panels he thought he had thrown out. There, mounted on the bathroom wall, were all of the congratulatory notes chronicling his birth.
Brad laughed, tickled that he had pulled one over on John and that he owned a piece of John's history that John would never again own.
A few years later, Brad put the house/cafe up for sale. A woman we'll call Lisa purchased the property and had plans to open up her own little cafe. She proceeded to plan the renovations, painting and general decorating of the cozy space. The panels were removed from the bathroom wall where they had resided for several years. She recognized that they were part of someone's history and she shared with several friends that these panels were too important to simply throw out. She knew that one day the subject of all those cards would come back. She propped them against a wall while she continued with her renovations.
Then one day, John took his wife and father on a "Magical Mystery Tour". At least, that's what he called it when they set out in that morning. Eventually, the trio ended up in the small town where Brad lived. John had no idea that Brad no longer lived there, that the property had been sold. After a beer or two in the local, historic, and quaint Armstrong Hotel, the three got back into the car and drove down the street to check on Brad. They stopped; John got out of the car to enquire at the house as to Brad's whereabouts. When he looked in, and realized that everything was being redecorated, he asked if he might use the washroom. Lisa graciously allowed him. John went in to the washroom, looked at the wall and realized that the panels were no longer in their usual place. As he turned to leave the washroom, he was met by Lisa, who was holding the two panels.
"You're looking for these, aren't you?", she asked.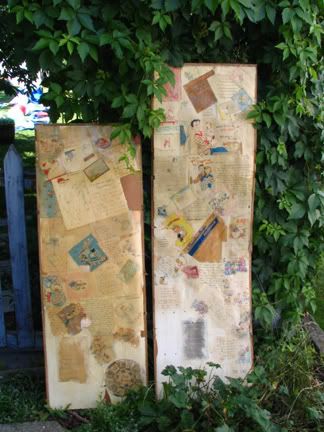 (The birth announcement; yes, that's John)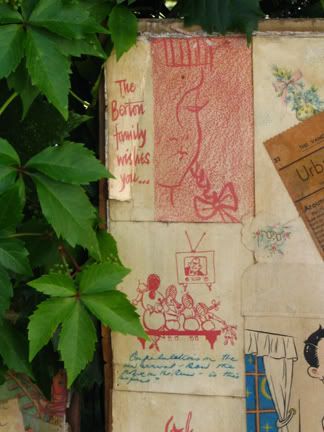 (A detail of one of the cards. Most Canadians will recognize the family name, Berton. Yes, that's Pierre Berton. He and John's father worked for the same newspaper chain at one time.)
After Lisa had completely shocked John, he came back out to the car and told his wife and father to come inside. After introductions had been made, further conversation followed (accompanied by a few beers). Before long, it was determined that, though John had never met Lisa, he had met, and worked with, her partner, Murray. It turned out that he was at an anniversary party (where Lisa had been about to go to when we showed up) just a few houses away. She went to get him and Murray and John got to meet each other again after quite a number of years.
Needless to say, they realized that the entire day had been planned for them,and not by them. The Magical Mystery Tour became just that.... magical.
The End