Because I've had a few days off, I've had knitting time! Not just knitting time, though. I have reorganized the computer/storage room so that everything is relatively neat. I now know where my entire stash is. That's all that's important, right? And we prepared our own private Christmas dinner, not with turkey, but we did stuff and bake a chicken. It was absolutely delicious!
Back to knitting. I think I mentioned earlier that I'm only working on two projects right now, John's "On Your Toes" socks and my Little Arrowhead Lace cardi. Yesterday, Christmas Day, the cardi was my project of choice. I had cast on for the sleeves a couple of nights ago, but didn't get any further until yesterday. Here's where I'm at now...
I found the instructions a little vague at the point where it said to
"increase one stitch at either end every 4th row, in pattern",
so I charted out the entire sleeve. I'd say that's a pretty good day's worth of knitting. Originally, I had both sleeves on one needle, but made a mistake on one of them and couldn't figure out just where, so I continued on the other sleeve and came back to the second sleeve later (actually, I restarted it). I'm hoping to have one sleeve finished today. I'm really looking forward to having this cardi off the needles; I think I'm going to enjoy wearing it.
Other knitting has occupied my needles over the last two months as well. While in Gibsons, I started on IK's Icelandic Shawl (a free download, but you have to join Knitting Daily). It was my
"keep my mind from thinking about anything else"
project and it did work. This will be the next project to finish after the cardi and socks are done.
And a closeup...
Off the top of my head, I can't remember the name of the yarn (I did blog about it before), but it's from Sweden and a joy to knit with. I would definitely work with this yarn again!
All that needs to be done on this shawl is to finish the top (it's worked from the outer edges in) and then I have to pick up the stitches for the border, which is (obviously) worked from the lower edge out. It won't take long to finish once I get working on it again and I think I'll be very happy with the finished shawl. And... now, I even have floor space for blocking! With carpets!
Then, there's one sort-of finished project. The camel shawl is off the needles, but it needs to be bigger, longer. When I can afford it, I'll be picking up another ball of the Nomad Yarns 100% camel yarn to add some length to this simple, little shawl.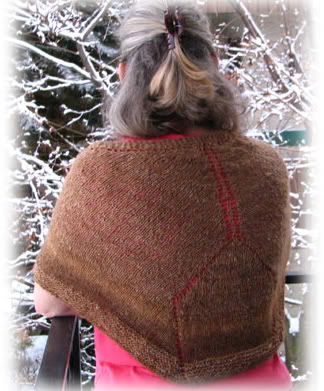 I was going to frog it and use the yarn for something else, but when John found out I had improvised it, not using a pattern, he forbade it. He's the one that suggested I have a ball of the yarn put aside so I could make it longer. He's definitely proud of my work.