First thing... I forgot to mention that the patterns are all up again on my free pattern blog. The link is in the sidebar.
Second thing... Calorimetry #2 is finished. I do love quick knits! This was the perfect knit for finishing in front of the tv. There was only one small problem to be overcome: where did my sewing box go? I needed thread to sew on the button and couldn't remember where I'd seen (I did remember seeing) it. This morning, I found it and Calorimetry is ready to face the snow (it's snowing here right now).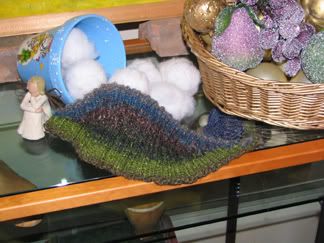 The finished product. It is, as I wrote yestereday, Noro Kureyon. I do love that yarn. This was frogged from another project and I'm finding it even softer to knit with this time around. Wait a second... it is NOT Kureyon... I just realized that it's Noro Silk Garden. Sheesh!! I guess that's what happens when you throw ball bands away, huh?
I wanted to find the perfect button for it, but nothing in my button tin really worked. That is, nothing worked until I put two buttons together. Yup, two buttons! The bottom one is just a plain pearlish white button; the top button was too small on it's own, but when I put the small one on top of the larger one, I liked it! I guess it really wouldn't have mattered what kind of button I'd used; my hair is long enough that the button wouldn't be visible. However, I'll know what the button looks like and I like knowing that the button works with the yarn. At least, I think it does. Incidentally, the small button looks more turquoise in the picture; in reality, it's definitely green.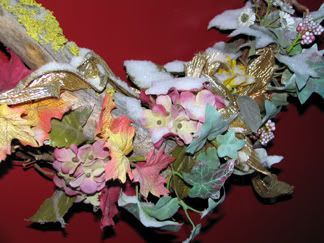 ...and a "just cuz" picture. John hung this wreath on the inside of our deck when we moved in. It managed to catch some snow and it just looked..... well.... cool. The red background is a panel in the railing (not the prettiest, really, but what can you do?).