I thought it might be kind of interesting (to me, at least) to chronicle the process I use to finish a project. Allow me to ramble.
Remember this?
Well, this morning, I decided to dip into this wealth of fibery yumminess and design a cap, either for John or for myself (or just to give away or sell... we'll see).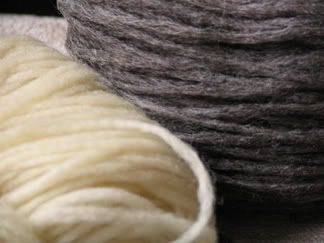 I chose these two colours, and may throw in a little of the dark brown as well. I haven't completely decided that yet. There's also a blue in this same yarn, but I must admit it's not my favourite shade of blue. It's a little too..... blue. You know what I mean? Anyway, I swatched the brown.
I tried to remember what I came up with before; I did swatch this yarn before, using two different sizes of needles, 4.5 mm (US 7) and 5.0 mm (US 8). From what I remember, I preferred the 4.5 mm swatch. It just felt firmer, more stable. This time, I swatched with 4.0 mm (US 6) needles. The resulting gauge is 10 sts to 2" or 5 stitches to the inch. The fabric is quite firm, so I'm thinking that the 4.0 mm will be good for the ribbing on the hat, but I'll have to switch to 4.5 mm for the body of the hat. I think I need to work one more swatch, this time on 4.5 mm needles.
The intention is to use the creamy yarn for a fair isle pattern in the body of the that; the brown yarn will be my main colour. I still haven't decided on a pattern, but I'm thinking I'll find something interesting in Anna Zilboorg's book, "Simply Socks". Her designs are based on Turkish colour work and some of them are quite stunning; there are a number of designs that use just two colours, so I'll probably choose one of those.
I've decided that this will be a hat worked from the lower edge to the top; I like top down hats, but with this yarn, I would need a stretchy cast off and the one I like best is a sewn cast off. Because the yarn breaks VERY easily, I'm not sure that the sewn cast off would work all that well. I think it would cause me more frustration that it would be worth.
So, from the bottom up, two colours, worked on 4.0 mm needles for the cuff and 4.5 mm needles for the body, worked in the round. So far, so good.
Next, I need to decide what size to make it. First, though, I'm going to go swatch on 4.5 mm needles to see what gauge I get for the body. I'll keep you informed.