The digression... just over half an hour ago, I received the best phone call any grandmother could get on her birthday. My sixth grandchild, a 10 lb. baby boy named Jonathan Pierce, was born at 5:38 a.m. He decided to take his time joining the world, but I'm thrilled that he arrived on my 53rd birthday. Welcome to the world, little boy! (I'll share pictures when I get them.)
On to step 3.
I've finally decided which stitch patterns I want to use. In going through Anna Zilboorg's book, there were a couple of things I had to keep in mind. First, the stitch multiple has to fit into my stitch count of 84 stitches. Second, the row multiple has to be of a size that will fit onto the body of the hat. In other words, I have to remember that I already have 1.5" of ribbing for the hat band. If I choose a pattern of, oh let's say, 28 rows, with a row gauge of 6 rows per inch, the pattern will be about 4.5". Add that to the 1.5" of cuff and I have a hat body of 7". That's a bit deep for a hat, so the pattern is too big.
With that in mind, this is what I've chosen...
I'll use this one to start with, just to give the hat a bit of balance. This design is a 4 stitch, 3 row repeat, so 1/2". I've put three rows of stocking stitch between this pattern and the main pattern, but I don't think I really needed to.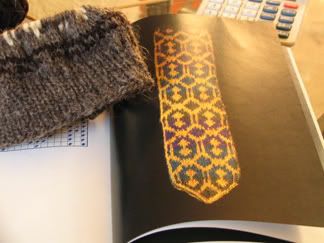 This will be the main pattern on the hat. The pattern is a 12 stitch, 17 row repeat. That means it will give me a body of about 3" at my row gauge. The body may still be a bit deep, but I can adapt the top shaping if necessary.
Incidentally, the name of the pattern I chose is "Gates of Paradise", so I've decided to call this the Gates of Paradise hat. Sounds ok?
Once I've decided on the patterns, I take the book to my computer and type the pattern into Excel. I won't go into the entire procedure of setting it all up, unless you want me to explain all of that to you. It's pretty straightforward, really. When I have the pattern typed in, I highlight it, copy it, then paste it into PageMaker, where I have a pattern template already set up.
At this point, I can print up the chart for the pattern and then, continue knitting. Which, once I'm dressed, I have every intention of doing. The next step will be to decide on the shaping of the top of the hat. I'll get back to you on that once I've finished working the chart, probably Thursday or Friday.