As I mentioned to Robbyn on Saturday evening, I HAVE been doing some knitting, but I must admit to a bad case of startitis. The little green baby sweater is about 3" from completion, but I'm having a difficult time getting back to it for some reason. I'm not sure why. It WILL be done very soon though, even if I have to force myself. My only consolation is that I'm knitting the 3 month size and it will be too warm for the little one to be wearing in August anyway (as of yesterday, he still hasn't put in an appearance, but it could be any moment now).
I did, however, start and finish these...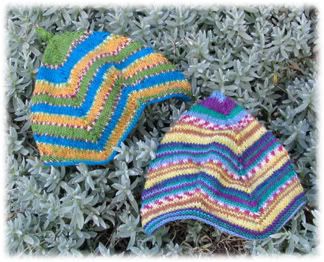 The pattern for these little caps can be found
here
. Both are made with sock yarn; don't ask which yarns I used because the balls had lost their labels. Both were yarns from the stash that had started out as one thing and became these little hats. They were worked on 2.5 mm and 3.0 mm circulars, with dpn's for the top. The one on the right is the 6 month size and the one on the left is the 1 year size. The pattern also has a 2 year size, which I plan on making as well, at some point. They're a quick knit. I finished off the 6 month hat yesterday morning and knit the entire 1 year hat by 4:00 p.m. I do love projects like that!
Ok, I need to go and get ready for our staff party... on the lake... hopefully the weather stays nice. There are a couple of dark clouds on the horizon. I leave you with a couple of pictures, taken this morning in the back yard.