Sunday was spent around the house and I got quite a bit of knitting done. Unfortunately, on one small project, I'm at a standstill. I have a decision to make and I really don't know what to do. That's where you come in; I need your help in deciding.
Here's the little project...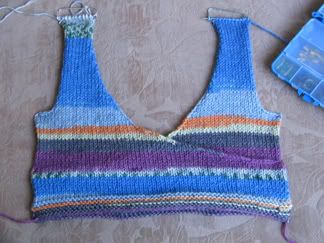 ...a little wrap cardigan from the October 2007 Canadian Living magazine, but taken from a Louisa Harding book. The yarn I'm using is an Online Supersocke 6-ply yarn on 3.75 mm needles.
So, why am I stuck? Well, if I make the back in the same yarn, the stripes won't line up on the sides. Will that matter? I was thinking of working the sleeves in a complimentary solid yarn; I could do the back in the same solid colour, which isn't what I wanted going into this project. I wanted the front and back to be in the patternend yarn and the sleeves in a solid yarn (which I still need to find; it really should be the same sort of yarn... 75% wool, 25% nylon... shouldn't it?) I'm torn. I'm looking for input.
It's interesting how the two front pieces ended up not matching at the top. I started knitting at the same point in the self-patterning yarn and yet one piece ended up farther in the patterning than the other. I wonder why.
When I reached the decision-making point of this sweater, I turned to another small project. I started a pair of wrist warmers for a knitalong one of my Ravelry groups is doing. The group is meant to be a localized group (from Friesland, a province in the north of Holland); they're intending to get together for a SnB session and wanted a knitalong project for that day. I'm a long distance member of that group. I started the wristers yesterday. The pattern is Colinette's Acorn, done in a kid mohair yarn with 90 beads on each wrister. I'll post pictures when there's a little more than one inch of knitting to show you.
Now, it's on with my morning... catching up online and then getting ready for work.