As mentioned in my last post, today is the day to flash your UFOs (unfinished objects). You can also check out other "flashes" at
The Yarnpath
and
Musings of a Silver Rose
. We three decided to "bare it all", but I was adamant that I was NOT going to itemize my UFOs because there are just too many of them and I don't want to embarass myself unnecessarily, yanno?
Here's where they're stashed, though.
In a back corner of the living room. Generally, this is my work-in-progress area, but some of those works in progress have become UFOs.
Just around the corner from the fireplace, out of sight from the room in general.
In my office. The desk isn't really used for anything but UFO storage. Ouch.
This is not all UFO storage. Only the Rubbermaid Storage container with the blue lid (center of the picture) contains UFOs. The other container above it is stash yarn, as is the plastic "bag" (space bag... you know... the kind you suck the air out of with a vaccuum cleaner). The container with the green lid contains my rubber stamps. I AM a crafter, after all, not just a knitter.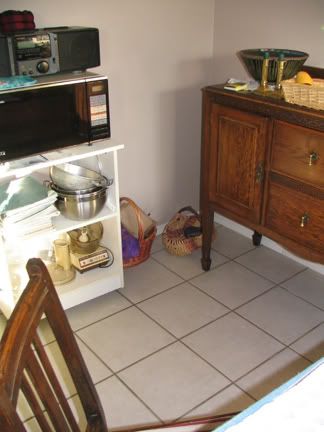 And, finally, the kitchen. One basket contains a couple of small projects that have been conveniently forgotten. The other basket has the remnants of John's sweater that simply haven't been put away yet.
And there you have it... my UFO stash(es). Some of the projects hidden away are destined to be frogged. Some I started, and then put away because I really wasn't too sure of them. They'll probably be frogged. Others, I'll re-evaluate and decide whether or not to finish them. This has been a good exercise for me. I really do have too much on the go; I guess I like starting things, but not finishing. I wonder why that is?
Now that I've "bared it all", consider doing the same. Let me know if you decide to flash your UFOs.
On to other things.
Stitchywitch commented on the Boteh scarf with a question:
"Your scarf is so pretty! I'm trying to make one as well, and I was wondering... are you following the chart or the written directions? I'm having some difficulties with my triangles wanting to go in a spiral, and I'm not certain that's correct. I'd appreciate any help!"
I followed the chart. You can see on my scarf that the "straight" edge has to be at the outside edge; the dtr row is to the inside. I find it much easier to follow a chart than the written directions. Mine did twist as well, until I realized that the beginning rows of each "leaf" have two 15 stitch rows, putting the straight edge to the outside. Does that make sense?