So, yesterday, the Spring 2007 Interweave Crochet magazine arrived. Did you know that I crochet, too? I perused it and decided to buy it. Occasionally, I buy it just to pass on to my daughter, but this time I bought it for me. I now have a "to do" list, a few crochet projects that I think I'd like to make for myself.
I did start this little item, as a store sample.
It's the Boteh Scarf, designed by Kathy Merrick. I'm using Koigu KPPM with a 4.0 mm hook. I love it! The scarf (so far I've done four "leaves") is cushy and soft and the yarn is sooooooo nice to work with. The pattern calls for Lorna's Laces sock yarn, which I don't have. It's a very quick (I was about to type "knit", but this isn't knitting) project. What I've done so far, I did in about three hours. The pattern calls for 16 repeats; I'm 1/4 of the way there already!
The other patterns that intrigue me, and I can see myself doing eventually are these two: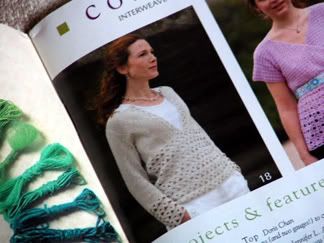 The first is the Seafoam Vest, worked with Rowan's Summer Tweed (which we do have at the store, but not in colours I like), designed by Chloe Nightingale. It just looks like a comfy, wear anywhere, with almost anything, kind of vest, yanno?
The second is the Beachcomber Tunic, designed by Jennifer Appleby and worked with Garnstudio's Silke Tweed, which we do not stock at the store, so I'll have to find a suitable substitute. I just love the combination of knit and crochet in this top. I think it's something I could get a lot of wear out of.
Enough dreaming! I'm still knitting, not to worry. As a matter of fact (you know what's coming, don't you?), I started a cardigan for myself. John chided me this week, told me to stop knitting shawls and knit myself a sweater. Believe it or not, I don't have a handknitted sweater. I have very few sweaters, actually. I do need one. Here's what I've chosen.
It's from an XRX publication, "Jackets for Work and Play". This one is Two-Way Lace. The pattern is done in two weights of yarn; I'm doing the lighter, closer to the body, version in Louet Gems light worsted weight on 3.5 mm needles. It's knitting up fairly quickly. The resulting fabric is firm without being "hard". I think I'll get a lot of wear out of this sweater.
I have a feeling I'll be getting a fair bit of knitting done over the next few days. You see, a cold caught up with me. I've avoided one for a long time (years, even), but now I have one, and it's a good one. Rest and relaxation is on the books for me (Dr. John's orders) and, for me, relaxation entails plenty of knitting time. And sherry. It helps soothe the cough, believe it or not. And it doesn't taste like medicine.
Back to taking 'er easy.