Lest you think I've been doing nothing, have a look at this...
What, you ask, is that? Well, the yarn is Grignasco Tango, a lovely blend of 50% virgin wool, 25% alpaca and 25% viscose. The pattern is from the latest Interweave Crochet.
I've been watching for just the right yarn for that pattern and one day, while having lunch in the back room of the store, I spotted a bag of the Tango on the shelf and just knew it was the right yarn. I bought it immediately, went home and cast on. That was April 19. Here's where I'm at so far...
On the right is a completed sleeve; to the left of the sleeve is one of the front pieces. Resting on the two pieces is the second front and the back. The way this pattern is worked, all the crochet is done on the knitted pieces before the sweater is assembled. I decided to knit all the pieces first, then do all the crochet. It's coming along very nicely. I'm hoping to have it finished within the next week or two.
Here's a close-up of the crochet work...
And then, because this is me we're talking about, I started a couple other small things. Oh, incidentally, the Estonian Garden scarf is on hold. I just don't think I can get it done in time for the auction it's intended for. I'm really struggling with the end sections. My needles just don't feel sharp enough. I have Addi Lace needles, but working such a small number of stitches on circulars...well, I just don't like it. So, one of these will be earmarked as a substitute.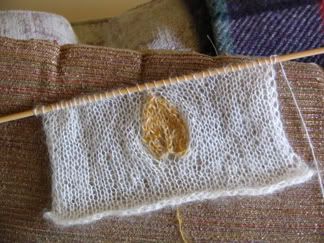 This one is the Leaf Scarf from Vogue Knitting, Summer 2005. For anyone wanting to make this pretty scarf, be aware that the pattern has a mistake. As written, you will end up with 2 stitches less every time you finish a leaf. Visit the Vogue Knitting web site for the corrections.
I'm using a combination of yarns, but essentially it's the exact same yarn. The white yarn is SRK's answer to Rowan Kid Silk Haze. The leaves will be done with KSH, in three different colours. I'll show you more when I have more knit. So far, it's a fun knit and I think it will be a very pretty little scarf.
This is
Branching Out
, from Knitty. I'm using Louet's Kidlin Pixie, a laceweight blend of kid mohair and linen. After working with the linen, I wasn't sure how I'd like the Kidlin, but I do. It's not bad to work with at all.
As I said, one of these two scarves will be donated to the cancer lodge at our local hospital for their annual silent auction. Help me decide which one I should give away, which one I should concentrate on first.
Now, I need to get moving. The weather's looking promising (blue sky, sunshine... yup, that's pretty nice!) and both John and I are off. There are dishes to be done and shopping to do and I have every intention of enjoying the day!