Hopefully this works. I'm back to using Photobucket, but it's taking a bit of time to get used to it again. We've had to upgrade our computer and now that everything goes nice and fast, I'm trying to get used to using some of the software again.
Anyway, this won't be a long post. I'm home 
from work today because of this...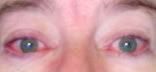 Yes, they're tender and sensitive. I'll be putting on my sunglasses very soon because it is a lovely, sunny (but cold!) day. I'm not sure what I reacted to this time, but it happens occasionally. Right now, my eyes are even redder than they were when I took the picture. It hasn't stopped me from knitting, though.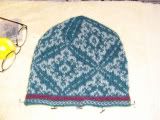 Here's the finished Inga Hat. When making the decision to make this hat, I read a lot of comments in Ravelry. A number of them stated that the hat came out big. Maybe they were using a heavier yarn, larger needles? If anything, this hat is a little on the tight side. It's long enough to cover my ears nicely, but it certainly isn't big.
The details, in case you've forgotten.. Sandnes Garn Alpakka, 3.5 mm needles, Inga Hat, available as a free download through Ravelry.
Now, back to vegging. Where did I leave my sunglasses?