When I left work today, I popped into the Bibles for Missions store in the same complex as the shop. I went straight for the section where all the craft stuff is located, and found this....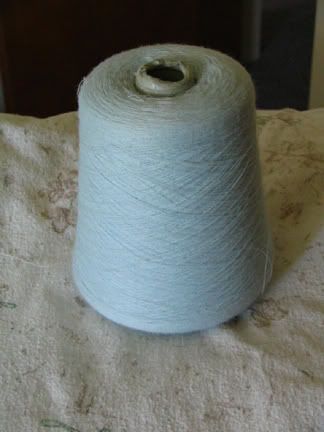 What is it? One pound and 5.75 ounces of cobweb weight yarn. The colour? eh! Not the prettiest, but that's easily remedied, right? So, what does cobweb weight really look like compared to other yarn? I'll show you.
The green yarn is the KnitPicks Shadow Lace, regular lace weight yarn. The light coloured thread is the cobweb weight. It's like thread, sewing thread! We're talking FINE in all caps!
The best part of this find, though? (Incidentally, this next pic is closest to the actual colour.)
Fifty cents. Half a dollar. Treasure? Or Fool's Gold?