Sometimes it's difficult to come up with a title; today, I'm not coming up with one. So there!
I did more knitting yesterday; I won't have enough yarn. I would have had if I hadn't looked at the pattern to make sure I was at the end. It seems the shawl requires a
full
repeat of the leaf pattern before doing the edging, which is just a basic garter stitch edging, really. I was thinking I'd finished the repeat; I was only half way through. And so, I don't. However, I did get an email from the dear friend who gave me the yarn and she has more, so I won't have to frog back to the lifeline. I love my friends!
Yesterday was a very nice, relaxing kind of day. John got home at about 2:30 (he's working again today), and by that time I'd baked a Swedish Tea Ring, something I haven't baked in a lot of years. Basically, it's a sweet bread, stuffed with cinnamon, brown sugar, raisins and nuts. John loved it!
After he got home, we did some grocery shopping, then just relaxed. I cooked us a lovely meal of pork chops, mashed potatoes and peas; John had his spicy apple sauce (he added cinnamon, nutmeg and cayenne to it... not quite to my liking) and then we did nothing but watch tv and go to bed early. As I said, relaxing.
Today, again, I have time for myself (I could get used to this). I didn't really feel like baking, but I did feel like doing something creative in the kitchen. While we were in Gibsons, I started what I hoped would become a tradition; each Sunday, John would spend the morning at home and go to the restaurant after lunch. I started making us an omelette every Sunday and, for the most part, we've kept up that tradition. Today, that omelette will be a late lunch, early supper for us.
I decided that, since we'll be having a late lunch, we won't need much for dinner, but it would be nice to have something sweet for later in the evening. One of my favourite desserts is panna cotta, basically milk Jello. This time, however, I wanted something different; I still had a can of coconut milk in my pantry, so I wondered if I could use it instead of cream. So, I went hunting online.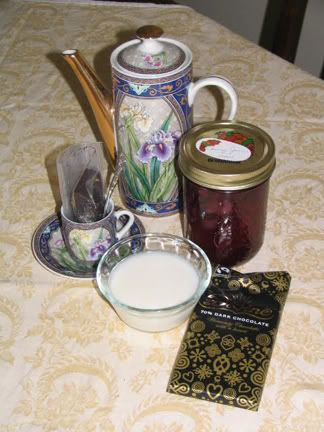 The makings of a delicious dessert.
I found a recipe for Cardamom Panna Cotta
here
. In the same post was a recipe for Cardamom Coffee. Both recipes sounded interesting and I had all the ingredients in the house, so dessert tonight will be Cardamom Panna Cotta with homemade cherry sauce (cherry jam that didn't gel up the way it was supposed to... it's in the jar in the picture), Cardamom coffee (the plastic baggie in the coffee cup contains the ingredients... just have to put it and the water in the coffee maker and let it do it's thing) and a little bit of chocolate on the side. The chocolate is Divine (that's the brand name, but it
is
divine!) 70% dark chocolate, a fair trade chocolate, sent to me by my sister as interest paid on a book she borrowed a while back. (Thanks, Gloria!!)
I think John will enjoy!