So... the swatch that didn't want to be a swatch is off the needles. Finished in just over a week. That yarn REALLY wanted to be that scarf, what can I say?
The finished scarf still needs to be blocked, something that's a little difficult to accomplish around here, considering the fact that there are no carpeted floors in this suite and no spare beds on which to stretch out the scarf. I think I may be able to use a spare table in the garage, lay a blanket over it, then a sheet or towel and block the scarf there. I'm hoping to accomplish that this weekend.
The scarf was a fun project. The center panel was, after the first repeat, fairly mindless and an easy knit. The two ends, on the other hand, demanded some concentration, so I would rate this as an intermediate knit. The details once again... Jaggerspun Zephyr, in a copper colour, on 4.0 mm (US6) needles. The pattern is from Victorian Lace Today by Jane Sowerby. I did add a few more repeats in the center panel because I used smaller needles than the pattern called for, but, other than that, there were no changes.
I've started another scarf from the same book, but I'll write more about that next time. All I'll say right now is think cotton candy and that I'm using stash yarn... finally!
A number of years ago, my ex-mother-in-law gave me a beaded bag that had belonged to my husband's grandmother. She had no idea how it had been made, where it had come from, or any real information about it. All we knew was that Pete's Oma lived in Holland and that she was born sometime in the mid 1800's. I've carried that little bag with me, taking it out of it's wrapping now and then to admire it, to show it off, and just to appreciate it, really.
I love this little bag. And, when I borrowed Montse Stanley's book from the library, I finally discovered how the bag had been made; it's knitted!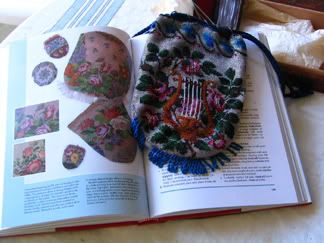 For years, I'd looked at the bag, puzzled over the four vertical lines running down the bag. Now, I realize it was knitted on double-pointed needles and the lines are actually "ladders" where the needles joined. I appreciate this little bag even more now that I know how it was made.
According to Montse Stanley,
"Close-bead knitting saw it's heyeay in the mid-nineteenth century and had a revival in the 1900s...Minute beads, threaded on silk, were used to obatin similar bright effects (mimicking needlepoint) in knitting."
The beads ARE tiny. There is a patch on the reverse side of the bag where some of the work has been repaired... badly. The beads used for the repair are much larger and they're regular seed beeds. It would almost be like comparing limes with grapefruits, size-wise.
Now, on with the day! It's been hot here this week and it looks like today will be no exception. John's at work (yes, on a Saturday), so his dad and I will have to do the grocery shopping and running around. Have I mentioned that I dislike grocery shopping? Oh well... then it's back here to relax and enjoy the weekend.
I hope you do the same.
Incidentally, the other object in the decoupaged cigar box is a crystal perfume bottle in a custom fitted leather case. I love stuff like that!