So, I'm sitting here trying to come up with a snappy title for this post; it just ain't happening, so I may as well get on with knitting content.
And the knitting has been coming along nicely, I should say. The Beachcomber Tunic (of which there are no new pictures today) is progressing very well. The crochet parts are taking a little longer than anticipated. Using a DK weight yarn and a smaller hook than I might ordinarily use on that yarn isn't the easiest or quickest method. I'm finding that if I try to go too quickly with it, the yarn splits, causing the stitches to tangle up. So, I'm taking my time and doing it right. The front is nearly done now; I'm on the 8th pattern repeat of nine. One sleeve is complete; the knitting part of the second sleeve is almost finished. Really, all that needs to be done yet is the crochet section of the back and finishing the second sleeve. The tunic is my "project to concentrate on" for this week.
The lacy something scarf I was doing for our local hospital is finished, off the needles, blocked and ready to passed into other hands. I started out with Knitty's Branching Out, but decided I didn't like the look of the yarn, the needle size used and the pattern. It just didn't "show" well, you know?
So, I frogged it, consulted Barbara Walker and came up with this...
...and a close up...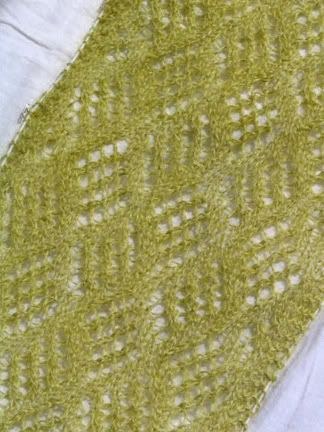 In her book, she calls this stitch "Checkerboard Mesh". I'd like to give it clever name, but have been unable to come up with anything, so I'm calling it The Checkerboard Mesh Scarf. It was a pretty quick knit. I had it done in just over a week (for me, that's pretty fast!). The details? Louet's Kidlin Pixie yarn in colour 1332, Grasshopper, on 4.0 mm (US6) needles. For those not familiar with this yarn, it's 49% linen, 35% mohair and 16% nylon, and comes in 50 gram skeins (250 yards). One skein gave me a total of 16 pattern repeats and I did 20 repeats. In other words, I used two skeins, with about 3/4 skein left over. The scarf is about 8" wide by approximately 5' in length.
As well as finishing the scarf and working on the tunic, I did (for those of you who wanted to see more of it) work on the Leaf Scarf, too. I think I'll keep that one for myself. I'm really liking the way it feels, the way it looks, the way it drapes.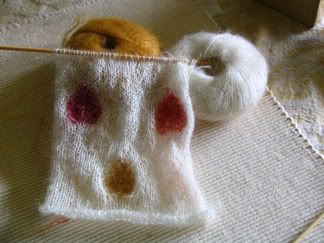 For now, though, it's on the back burner. I think this will be one of those projects that can be picked up at any time, worked on one pattern section at a time, and then put away again for a while. I don't mind projects like that.
As I said earlier, the Beachcomber Tunic is my top priority right now. I'd like to have it done this week as I'll be going a way for a few days and would like to be able to take it with me. Yes, I'm taking a few days away to visit family.
I try not to write too much about my family in this blog because it's intended to be, predominantly, a blog about knitting. However, I AM part of a large family and sometimes family life intrudes into my knitting life (how dare it!). A few weeks ago, my mother was admitted to the hospital with chest pains. My father, who is no longer able to be alone because of Alzheimer's, had to be put into a respite care home for now. Thankfully, my mother is back home; apparently the doctors couldn't find a reason for the chest pain, but have adjusted her medications, added more and sent her home. She was also advised not to pick Dad up from respite care; she needs time to recuperate.
Since my children and grandchildren all live in the same town as my parents, I'll be spending some time with them as well as doing what I can for my Mom (cooking mostly, I'm thinking). I'll be catching the bus on Saturday morning and returning home some time on Wednesday. My daughter very kindly pointed out that I would be with them for Mother's Day; I hadn't even realized that. How pathetic is THAT??
The upshot is that I probably won't blog at all next weekend, so I'll see you in a couple of weeks. Till then, keep those needles busy.